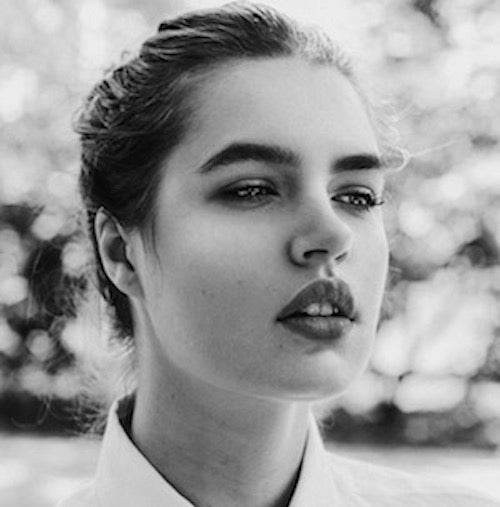 For our inaugural Girl Crush 10 questions, we chatted with our fAVE girl, Macara Harrison, who happens to be the face of Coverstory(yes, we are biased). This Ohio native, now a bona fide Brooklynite is not only a talented model, she is sweet, fun to hang out with and has gotten the cool NYC vibe down. She has appeared in major fashion campaigns including Persona by Marina Rinaldi and Rachel Roy. She might not be a household name yet, but this curvy babe is definitely a rising star that you should be checking out.
10 questions......
1/ the one thing you wear everyday is?
I wear a ring my boyfriend had made for me every day. I feel like im forgetting something when I don't have it on.
2/ your favorite place to eat is?
I love to eat out and try new restaurants so I always have a new favorite place to eat. If I had to pick I would say an all time favorite, Veselka. I've never had a bad meal there and it's open 24/7.
3/ heels or sneakers?
sneakers always.
4/ you would trade closets with?
I'm obsessed with all of Bella Hadid's outfits. So her 100%.
5/ your favorite place in new york is?
I love Brooklyn and my apartment. My favorite thing to do is relax at home with my roommates in Bushwick. It's my peaceful place.
6/ your favorite instagram account is?
Beautiful destinations. I'm always tagging my boyfriend and my friends on picture of exotic places. I'm constantly trying to plan trips with people ?
7/ the one beauty product you can't live without is?
chapstick! I am constantly slathering chapstick on my face lol!
8/ the best advice you've ever received is?
I would have to say it would be something my dad would always say to me; knowledge is power. He instilled in me how important is it to be smart. Keep trying to learn no matter how much you've achieved.
9/ Netflix or Hulu?
wow that's maybe the hardest question any one has ever asked! I'm going to have to say Hulu because Broad City isn't on Netflix.
10/ your most used emoji is?
Sunglass emoji ? or sparkles ✨ of course