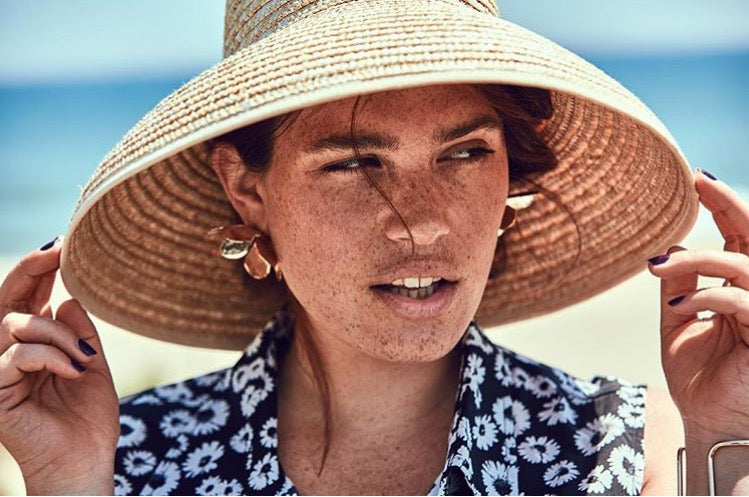 Photo: instagram@bonjourclem
J'adore Clémentine 😀. This freckled-face, Toulouse-born beauty is très authentique and oozes French chic.
She first burst onto the scene after Christian Louboutin uploaded a video of her wearing the house's coveted lipstick on Instagram. Since then, she's been popping up everywhere. You can read about her in The New York Times, The Cut, Refinery29, Vogue, Racked and anywhere fashion is in the news.
She is undoubtedly one of the most prominent curvy models.
A bona-fide quadruple threat, Clémentine is a model, a blogger, an entrepreneur and, most importantly, an activist. Clémentine uses her social media platform to promote diverse ideals of beauty and body confidence. Her latest initiative, the All Women Project, is the most powerful to date. Vogue calls the foundation, established by Clémentine and Charli Howard, a "...Body Diversity Revolution in Fashion." The multi-platform campaign creates beautiful and powerful imagery of women of all sizes, colors and ages in order to spread the message of self-love and body-positivity.
We were ecstatic when Clémentine agreed to our Girl crush 10 questions and shared some tips on joie-de-vivre.
10  questions...........
1/ your favorite restaurant in France is?
It's so many it's not even fair! I grew up in the best food regions of the country ... You're starting strong! Besides my family's kitchen, I would probably say ANADOLU: a fancy Turkish spot in Colmar, where I grew up. Best memories there!
2/ the one thing you wear everyday is?
Underwear :-) seriously?! I like to switch it up but my basic comfortable boyfriend jeans are a must!
3/ plus size modeling has changed for the better/worse in:
It has definitely changed my life for the better. I became aware of my body, learned to love it, became more self-aware and more confident, swing myself thru someone else's eyes.

4/ your favorite place to shop in Paris is?
Paris is the perfect shopping sport (if you wear a size 10 or under) and I love walking the small streets and discovering new cute shops. My go to for the latest trends would be MERCI, better, more affordable and now cooler than COLETTE! I also loooove shoes so I would stop by Clergerie who makes amazing man's style shoes, which I LOVE!
5/ your most memorable vacation is?
I am so grateful to have had so many chances to explore and discover new destination at a early age. Traveling is still my favorite thing to do in Life and I think Africa is the most wonderful continent I have ever seen. My most memorable one would be Kenya and Tanzania. Animals are just the best thing ever!!
6/ if you could live in another era in fashion, you would choose?
Probably back in the 70's. I am a wild flower child at heart and use to dress like that in my teenage years!
7/ your favorite place in New York is?
I love Washington Square Park in the summer and also the walking in the West Village.
Photo: instagram@bonjourclem
8/ your skincare regime is?
I am super minimalist and I like organic products for my skin. Natural inside out...
9/ the best advice you've ever received is?
Love yourself first and people will love you back
10/ your most used emoji is?
😘😘😘😘