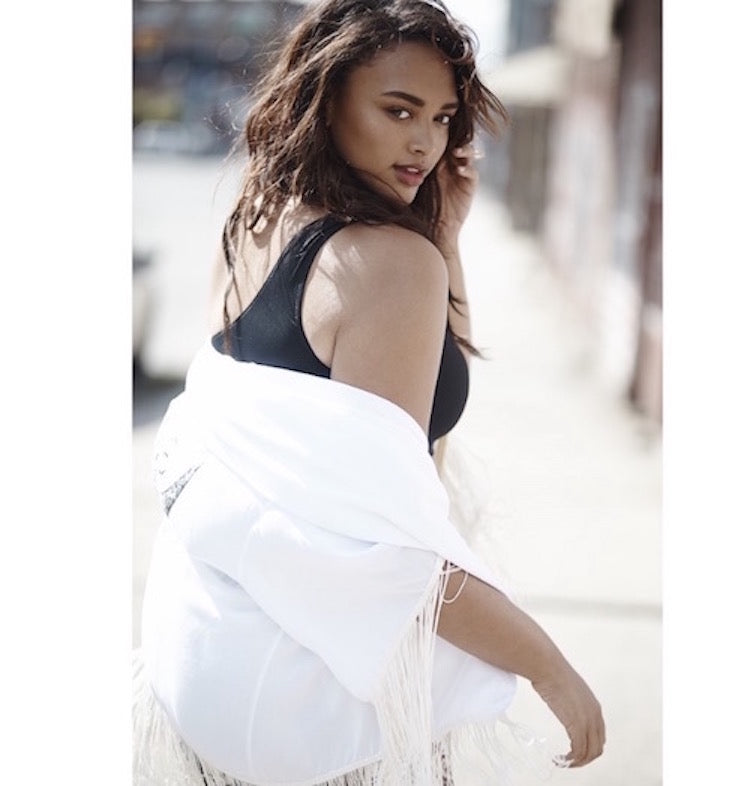 I met Alisha back in January, and was instantly drawn to her easy-going vibe and beautiful smile. This Miami native is a ray of sunshine that brightens any room that she walks in.
Alisha moved to NYC and started modeling two and a half years ago. Since then, she's been popping up everywhere, from Teen Vogue to Cosmopolitan, and now she's the new

Who What Wear

plus-size fashion contributing editor, offering her expert styling tips for the curvy ladies.
So happy that she was able to take time from her busy schedule to be this week's Girl Crush!!!

10 questions………
1/ the one thing you wear everyday is?
I have these gold earrings that I've gotten as a gift. I wear them all the time. I really love them.
2/ your favorite restaurant is?
Living in NYC that's a very hard question to answer. I'll go with Le Turtle for now. I change my mind everyday. But Le Turtle is a cute French restaurant in the lower east side that everyone should try.
3/ the latest splurge for your closet is?
My last splurge was a Pair of Charlotte Olympia shoes. Those are my little secret. They have my heart.
4/ your ideal vacation destination is?
This is one of the hardest question for me to answer because I want to go everywhere. Just give me a dart and a map and I'm out.
5/ Tyrion Lannister or Daenerys Targaryen?
Khal Drogo😋 ... I don't watch Game of Thrones(shhhh do tell anyone). But luckily my celebrity crush is in the cast. Hopefully he's the good guy. If not we can work something out.
6/ if you could trade closets with anyone, it would be?
Solange Knowles. HANDS DOWN!
7/ your skincare routine is?
My routine is very simple.
Cleanser- DHC Deep cleansing oil
Moisturizer- Embryolisse/Hawaiian Girl daily moisturizer
Balm- bag balm
Exfoliator- Acure Brightening facial scrub
Mask- Tony Moly sheet mask
I use everything daily except for the exfoliator and the mask, I use those one a week.
8/ the best piece of advice you've ever received is?
"Stay whole and keep your s*(crap) together"- Michael(He is a drunk old man that taught me a couple of life lessons one night at a bar. Great guy. I'll never forget him)

9/ your most used APP is?
Yelp😂
10/ if you could invite 6 people to dinner, you'd ask?
1.Taylor Swift
2.Mark Zuckerberg
3.Leonardo DiCaprio
4.Rebel Wilson
5.Salvador Dali
6.Elon Musk